How to Improve Guest Experiences with Commercial Automation
Enhance Your Hotel and Hospitality with Professional Technology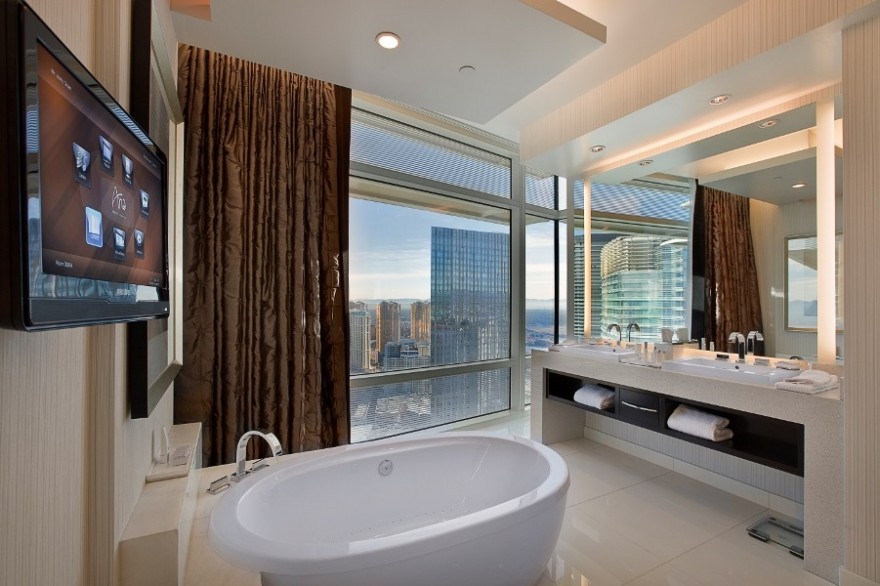 According to an amenities survey performed by Hotels.com in 2015, free Wi-Fi is the number-one factor in choosing a hotel for 25 percent of travelers, and 49 percent for business travelers specifically. With many hotels offering free Wi-Fi today, how are you going to stand out amongst the competition? More hotels are adopting the latest technology to draw in guests and even cut costs on operational expenses so that more money can be invested in expanding the brand.
In an article on the website hospitalitytechnology.com, Lisa Terry reports that 54 percent of hotels will invest in technology this year, like guest room technology, mobile engagement, and payment security. If you are going to set aside capital to add new technology to your hotel, which solutions will yield the greatest return on your investment? We are here to help you invest in the areas that matter most to travelers. Continue reading to discover ideas on how to use commercial automation in your business in the area of Clifton Park, New York and the surrounding capital region.
SEE ALSO: Luxury Home and Office Crestron Touchscreens For Quick and Easy Control


Mobile Engagement
According to the Pew Research Center, two-thirds of Americans own and use a smartphone. Mobile technology is so fluid in our society that it's essential to consider it in designing your hotel guest experience. From checking in to adjusting the thermostat and making hotel reservations, your guests want the process to be fast and easy. Take Disney World for example, who in the last five years has added mobile technology to their parks, hotels, and restaurants. Open the My Disney Experience App and you can check into your hotel, make reservations at restaurants and plan which rides you want to go on in the parks by reserving a Fast Pass.
In your New York hotel, give your guests a luxurious experience by allowing them to check in online using their phones, open their rooms with the same phone, and adjusting the room's features using the same user interface on a tablet, touch screen or phone. While they're out on the town or doing business in the city, give them the ability to prepare their room even before they get back to the hotel. They can set the temperature, pick a movie, and even order room service on the go so it's all ready when they get back for a relaxing stay. Mobile engagement will certainly distinguish your brand from the others.


Automated Amenities
While giving your guests mobile access to a variety of services, adding automation will give your hotel a special touch. Along with the increasing abundance of extended stay hotels, so too has the desire grown for high end amenities that better reflect what business professionals' have in their own homes. Typically guests call the front desk for a wake-up call, or set their phone alarms, but what if they could create their own wake-up scene with your automated system? They can pick a time to wake up, have the lights turn on, the shades open, and the TV turn on the morning news. It will get them moving fast. You could also integrate features right into the room, so that when a guest arrives inside, the lights immediately turn on and a relaxing music station plays. Ambiance Systems can create custom controls so that your guests can hit one button for a variety of sequences, like "Good Morning," "Goodnight" or "Check Out."


Green Solutions
According to the U.S. Green Building Council (USGBC), hotels in the United States comprise more than five billion square feet of space and spend more than $7.5 billion on energy each year. This equates to an average spend of nearly $2,200 per available room each year on energy. Given these statistics, there are significant opportunities within the hotel industry to not only reduce energy consumption and thus its impact on the environment, but there is also a large and powerful financial incentive as well. When hoteliers consider any changes, it is important that those changes result in a healthy, productive and comfortable environment for guests. A survey conducted by TripAdvisor, the world's largest travel site, found that the green travel trend is gaining momentum. More than half of travelers surveyed said they often make eco-friendly travel decisions, such as their choice of hotel, transportation or food source. This trend coupled with more stringent government regulations is leading hoteliers to focus on environmentally sensitive construction and operation practices.

Ambiance Systems can help improve your operations and lower expenditures with energy management systems. Hotel managers will be able to monitor energy use, but back when guests are out or during the evenings. Dimmers, smart thermostats, and motorized shades are just a few of the solutions that can make a big difference in how much energy and electricity you use. The more control you have, the bigger of an opportunity to cut back and save.



Are you interested in adding any of these solutions to your hotel? To get started, fill out our online form and we can create a custom solution for you.

No video selected.