Luxury Home and Office Crestron Touchscreens For Quick and Easy Control
Automation Systems Installed in Woodstock, Windham, Stratton, and Manchester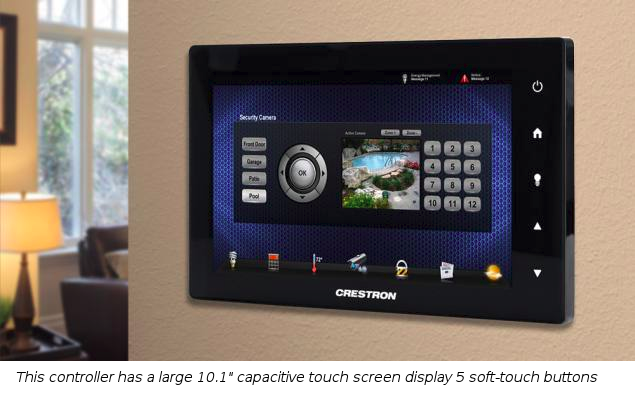 For decades Ambiance Systems has been a proud partner with Crestron and has successfully installed Crestron systems in places like Woodstock and Windham New York, in the Berkshires and Catskills, to Manchester and Stowe Vermont, and the surrounding areas of Rutland and Bennington Counties. Crestron manufactures state of the art home automation and business automation technology. They have evolved from a pioneer in audio/video and home control systems into a world-class enterprise management company providing solutions to a broad spectrum of organizations. Their goal is similar to ours: working hard to provide simplicity and efficiency in our clients' everyday lives, including both the home and the office. Electronic systems integration is what we do best, and Crestron's new multi-purpose touchscreen helps us deliver just that. Crestron's new TSW-1052 is not only beautiful and sleek but it delivers the ultimate touchscreen experience; it is fully customizable with easy-to-use controls and icons, real-time status display, live streaming video, and voice recognition.

SEE ALSO: 3 Reasons Why You Should Invest in Smart Home Automation

In this brave new world where app-based functionality reigns supreme, it can be easy to forget there are still many circumstances, especially in large, luxury homes and high-end boardrooms or conference rooms, that a dedicated user-interface for controlling all your technology, is the ideal choice and will yield the best results. A dedicated touchscreen will eliminate the need for the unsightly piles of remote controls and multiple ugly wall switches. A well-programmed touchscreen should be able to easily control your home's audio, video, lighting, shades, HVAC, security, and other systems.

With the inclusion of the additional voice recognition feature, voice commands can be used to control everything from viewing of security cameras and other video sources, to communicating using the built-in intercom and phone capabilities, not to mention simply browsing the Internet. Everything can be quickly accessed through one simple dependable and dedicated device.

There is nothing more frustrating that having to drill down and wait for launch times when wanting to perform simple tasks. With this Crestron touchscreen there is no frustration or waiting involved. Simplifying and enhancing the way we all use our technology is what Ambiance Systems and Crestron are all about. Give us a call today for a free estimate.

No video selected.